Human Capital Management (HCM) solutions are essential to efficient HR processes in today's fast-paced corporate environment. HCM solutions play a crucial role in maintaining efficient workforce management by doing things like managing employee data and automating payroll and benefits administration. However, as businesses expand and new expectations are placed on employees, the need for streamlined and straightforward HR procedures becomes critical. The integration of AI assistants with business HCM systems provides a game-changing strategy for HR management in this context.
The Transformative Role of AI Assistants in HCM Integration
Natural language processing (NLP) and machine learning (ML) are just two examples of the cutting-edge technology that AI assistants may leverage to completely revamp the HR process. They improve productivity, enrich the employee experience, and make it easier to make important strategic decisions when integrated with corporate HCM systems.
Streamlined HR Processes
The simplification of HR procedures is one of the most alluring benefits of incorporating AI helpers into HCM systems. Human resources (HR) departments may save time and effort by automating routine processes like responding to employee questions, processing vacation requests, and disseminating information about policies and perks. In the workplace, employees may now use natural language interactions with AI assistants to get timely and correct replies. In addition to saving HR staff time, this automation helps keep everyone on the same page and cuts down on mistakes.
Enhanced Employee Experience
The key to efficient human resource management is making life easy for your staff. AI helpers improve efficiency by giving workers access to a self-service hub around the clock. Envision if workers could check their vacation time and make changes to their profile outside of HR's regular hours. The accessibility of information is beneficial to the workplace since it empowers workers and increases their happiness.
Strategic Decision-Making
The value of AI assistants extends beyond mundane administrative work to include the provision of insights that inform more strategic choices. Artificial intelligence (AI) technologies may help human resources (HR) managers by evaluating data from interactions with employees to spot trends, predict requirements, and deliver actionable insights. Human resources departments may use this data-driven strategy to improve talent management, employee engagement, and workforce planning.
Integration with Leading HCM Solutions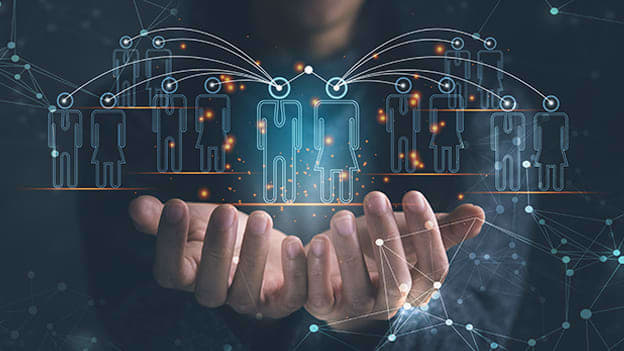 AI assistants are a game-changer for businesses that want to unlock HR productivity, and they are already being integrated with some of the most popular HCM solutions on the market. These include UKG, Oracle HCM, SAP SuccessFactors, PeopleSoft, Paylocity, Infor, Workday, and ADP. These HCM behemoths meet a wide range of HR requirements, from hiring to performance monitoring, and today they're even more powerful than before because of the incorporation of AI helpers.
Seamless and Adaptive Interaction
AI assistants may easily switch between text and speech conversations according to the user's preferences. The assistant may communicate with workers through whichever medium they like, whether it is a messaging app, a web portal, or a voice-enabled gadget. Because of their malleability, AI assistants are a natural extension of the HR ecosystem since they encourage a user-centric approach.
Embracing the Future of HR
A major step forward in human resource management is the incorporation of AI assistants into corporate HCM systems. It helps HR departments save time and effort by automating mundane procedures, and it gives workers easy access to resources they need. Organizations may better allocate resources to strategic goals, employee growth, and overall workforce management thanks to this integration.
Final Words
When it comes to business HCM integration, the value of AI assistants cannot be overstated. AI assistants are a game-changer for HR managers due to their capacity to seamlessly automate HR operations, improve the employee experience, and give data-driven insights. AI assistants represent the future of HR management, leading the field into a more effective and innovative era as businesses attempt to improve HR operations.